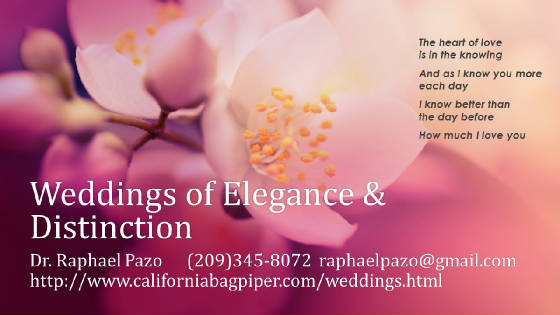 Weddings of Elengance and Distinction
Dr. Raphael Pazo
"Weddings of Elegance and Distinction"
I am a Wedding Celebrant and Officiant, an Ordained Rabbi and a Chaplain with years of experience serving couples of all faiths and creeds, and those without religious preference.

I have been married for almost 3 decades to my college sweetheart
I am an experienced wedding officiant, having performed hundreds of weddings since I was ordained as a Rabbi since 2005 with vast experience officiating weddings, customs, and laws in every state and several countries around the world. I celebrate over 100 weddings every year.

My clients include local and international celebrities, foreign royalty and aristocracy, dignitaries, and hundreds of local couples from all walks life.
In short - people in love!

Besides having the privilege of celebrating over 100 weddings per year locally, I am a Chaplain and certified Wedding Officiant with three major cruise lines and travel to private and exotic destinations to celebrate unforgettable weddings in a multitude of languages.

I am fluent in several languages, namely: English, Spanish, Portuguese, French, Italian, Hebrew, Aramaic, Arabic and Gaelic (Scottish).

I specialize in the following types of weddings: traditional weddings, religious weddings, secular weddings (non-religious), non-denominational weddings, alternative weddings and civil unions.

I am very flexible, and adapt quickly to any changes. I will diligently and tirelessly work with you and your wedding coordinator to make your dream wedding a reality.

Highland Bagpiper

I am also an award-winning champion Scottish bagpiper with over 30 of experience as a performer and music instructor specializing in performing at engagement parties, weddings, anniversaries, receptions, and many other events.

Choose from a vast repertoire of Scottish, Irish or Welsh music, or commission an original composition for your special day. All original compositions are hand-written using inkwell and quills on heavy parchment, suitable for framing as a unique memento of your special day.

I own every type of authentic Scottish attire, ranging from casual, day wear, semi-formal, formal, high dress, and regimental high dress - suitable for any style of wedding.


Location: Lodi, California 95240
Please visit my website at: https://www.thumbtack.com/profile/services/FYtILmHBdwhOSw/edit/onboard
Will travel to your location!
Credentials Verified January 2015
Department of Justice Background Check - Passed Jan. 2015
Preferred Gold Level Wedding Celebrant
Need a Wedding Celebrant?
Click on the link above to visit
Dr. Pazo's Wedding Celebrant Profile
Dr. Raphael Pazo is a duly ordained and acreddited wedding celebrant with many years of experience in:
*Traditional Weddings
*Non-Denominaational Weddings
*Inter-Faith Weddings
*Alternative / Progressive Weddings
*Secular Weddings
*Civil Unions
*Commitment Ceremonies
*Engagements
*Renewal of Wedding Vows
*Pre-Marital Counseling
and much more!

Question and answers
Q. Describe the most common types of jobs you do for your clients.
A. Traditional Weddings
Eloping Weddings
Jewish Weddings
Inter-Faith Weddings
Alternative Modern Weddings
Multi-Cultural Weddings
Multi-Lingual Weddings
Non-Denominational Weddings
Secular Weddings
Renewal of Wedding Vows
Exotic Destination Weddings
Sunset at the Beach Weddings
Highland Weddings (Scottish, Irish and Welsh)
Q. What advice do you have for a customer looking to hire a provider like you?
A. Choosing a Wedding Celebrant is an important decision that shouldn't be taken lightly. DO NOT hire a wedding celebrant UNTIL you have checked his/her credentials, checked references and talk to him or her.

Your informed decision in then made based on a relationship that will from between the couple and the wedding celebrant.

Always remember: Cheaper isn't always better.
Q. If you were a customer, what do you wish you knew about your trade? Any inside secrets to share?
A. Celebrating weddings is much more than having someone stand in front of the couple and say a few words or read from an script downloaded from the internet, sign the marriage license and mail it to a county clerk.

A Wedding Celebrants is a professionals who devotes his time and resources to CREATE MEMORABLE WEDDINGS. They are educated, trained, certified and credentialed to assist the couple through the entire process of creating the nuptial ceremony according to the wishes of the couple. Celebrants often form a bond with the couple that can last a lifetime.
Q. What questions should a consumer ask to hire the right service professional?
A. How many CONSECUTIVE years have you been celebrating weddings?
Are you open to ideas?
What type of training did you receive and where?
Do you attend continuing education courses to remain in pace with the latest laws and developments?

But most important of all, check references, read reviews from previous clients and TALK TO THEM.

Asking these questions will enable you to make an INFORMED DECISION,
Q. What important information should buyers have thought through before seeking you out?
A. Ask questions and speak to you the person you're planning to hire BEFORE you do.
Q. Why does your work stand out from others who do what you do?
A. As your Wedding Celebrant, I shall tirelessly work with you to make YOUR wedding one of the most memorable, cherished and unforgettable events of your life.
Q. What do you like most about your job?
A. Although I have been fortunate to celebrate hundreds of weddings from various cultures and traditions, in many different languages, both religious or secular, every single wedding is UNIQUELY SPECIAL. I am always looking forward to arranging, planing and celebrating weddings and meeting or exceeding all expectations of the wedding party.

I Love Weddings!!!
Q. What questions do customers most commonly ask you? What's your answer?
A. A common question is, "what do you charge per minute or per hour? We just want a short wedding."

Long weddings and short weddings are quite different - in more than just the amount of time you'd like your wedding to last. And while my fee varies according to the requirements and request of the couple, my fee is determined by all the preparation I underwent for years that allows me to stand in front of a large congregation or an intimate crowd to celebrate YOUR WEDDING with poise, confidence and in the most professional manner.
Q. Do you have a favorite story from your work?
A. I have several anecdotes about wedding that I have performed, but one that always comes to mind happened in the Summer of 2014.

I received an early morning phone call from a gentleman who was looking for wedding celebrant to "get hitched" to the lady he loved for almost 10 years that very same day.

I happened to be available that entire day and told the gentleman and his fiancé that it could possibly be done and that the first step would be to obtain a marriage license. Being technologically savvy, I send him a text message with the address of the Marriage Licenses Bureau of the county. I gave him some instructions over the phone about the process of getting the marriage license and asked them to meet me at my home as soon as they had their marriage license.

About 1 later I heard the rumble of several Harley Davidson motorcycles - they wanted a "Bikers' Hitching Ceremony" and had made reservations at local park with a lake, replete with beautiful swans.

I met with the couple and worked together to create a unique and unforgettable "Bikers' Hitching Ceremony", while a small army of their friends arranged for flowers, a caterer and countless other preparations.

Once we concluded the planning, the preparation of their bows and several other parts of the wedding, the gentleman asked informed me that he was planning to get married in the attire he was wearing - Denim jeans with leather chaps, short sleeve shirt, and a leather biker's vest. He also requested that I dress "comfortably" - no suit and tie - just simple and comfortable. At that point I could resists to share that I,, too, am a motorcycle enthusiast and invited him to see my "hog" inside my garage - detailed and ready to roll.

He became so overcome with emotion and gave me a "bear hug", lifting me up in the air. He then asked, "Would you ride your bike to the ceremony and dress a a biker to which I eagerly replied affirmatively.

Three hours later I was celebrating my first ever "Bikers' Hitching Ceremony" dress in jeans with leather chaps, a short sleeve shirt and my own biker's leather vest.

The ceremony was attended by over 425 of the couples friends and family, all of whom rode over 370 very large motorcycles.

This "Bikers' Hitching" was the couple's idea of a dream wedding - and that dream became an elegant, distinct and most unforgettable wedding!

I love celebrating weddings!
Q. What do you wish customers knew about you or your profession?
A. Wedding celebrants ARE NOT all alike. Some have dedicated a great deal of time and money in obtaining their education and training.
Some are duly ordained and licensed, and have completed an accreditation and certification process, undergone extensive background checks and regularly attend continuing education courses.

Others get a free ordination from the internet and operated without any credentials, training, licensing, often without being bonded or insured.

Before you chose the person who will preside over one of the MOST IMPORTNAT LIFE EVENTS, be sure to ask questions, read reviews from prior customers and clients couples, inquire around the community and get to know the person you select to be your wedding celebrant, BEFORE making a decision.
Q. How did you decide to get in your line of work?
A. I celebrate weddings because weddings celebrate love - that most essential and necessary of human emotions.

Weddings and marriages have many different meanings for different cultures - but they all have a common thread: it unites two people in love into the most basic unit of our society: a family.

Two individuals become one in love, physically, financially and much more.
Q. Tell us about a recent job you did that you are particularly proud of.
A. I recently performed a bilingual wedding in English and Spanish.

The bride and groom, their parents and siblings all spoke English, but they had several dozens of relatives who only spoke Spanish. The prospect that many of their relatives would not be able to understand what was being said during the ceremony was very distressful to the couple.

When we first me to plan the wedding, I share that I was fluent in several languages, Spanish and English included, and that it would be my pleasure to officiate the wedding in both languages.

The wedding was a success and since then, three other couples who were in attendance that day, have requested me to celebrate bilingual weddings for them, too.

Recently, I celebrated weddings in the following combination of languages:

English-Portuguese
English-Hebrew
English-Hebrew-Spanish
English-Arabic
Spanish-Arabic
Portuguese-Spanish

I look forward to the opportunity to serve couple for whom their traditions and language are the foundation of their personal and cultural identity.
Q. Do you do any sort of continuing education to stay up on the latest developments in your field?
A. Continuing education is essential in our profession in order to stay current with all applicable laws, statues and regulations.
Accrediting organizations devise an uniform curriculum of the latest professional practices and ensure uniform dissemination of such information among accredited professionals.

I attend all mandatory AND optional continuing education courses.
Q. What are the latest developments in your field? Are there any exciting things coming in the next few years or decade that will change your line of business?
A. There have been many recent developments in the profession of Wedding Celebra"nts, some of which are quite detrimental to all concerned, such as instant internet credentialing without any training, proficiency testing or credentialing. I have personally attended ceremonies led by individuals without training and credentials - they were disastrous and sad events for all.
Q. Describe your most recent project, what it involved, how much it cost, and how long it took.
A. Just a few weeks back I received a call on a Monday that I was selected to celebrate a wedding at an exotic private island in the Caribbean sea under the jurisdiction of the Government of the Netherlands. Having traveled to the Dutch Indies of Aruba, Bonaire and Curaçao, I had previously registered with the Dutch Government to celebrate nuptials within their jurisdiction.

I flew to Aruba two days later, and sailed on a a catamaran to the private island resort.

I celebrated an all-white wedding against the setting sun. Another dream became reality!
Q. What is your greatest strength?
A. Promptness and the ability to communicate clearly and concisely.