St. Patrick's Day 2004
High Dress - Montrose Military Tunic; French Pointed-Lace Jabot; lace cuffs; Black Watch Tartan
P/M Dr. Raphael Pazo - Side/oblique view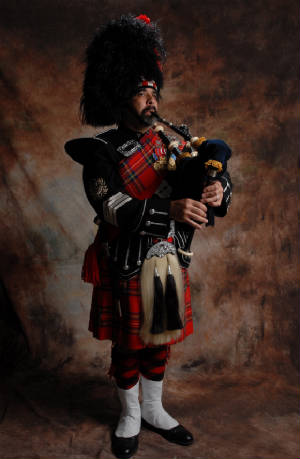 Full Regimental Uniform - Red Royal Stewart Tartan
P/M Dr. Raphael Pazo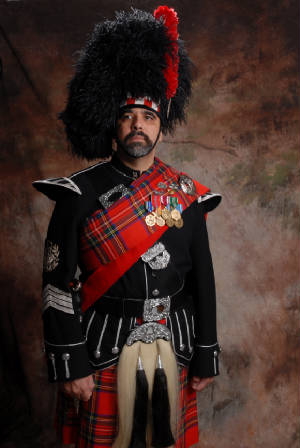 Full Regimental Uniform with Military Decorations and Officer's Red Sash - withouth bagpipes
San Francisco Scottish Rite 2004 Installation
High Dress attire; with my daughter, Julianne,; King George VI Royal Family Tartan
January 2004 - White Thistle Kiltmakers
Douglas Roberts, Susan Pazo, Dr. Raphael Pazo & Garrett Barreth, Kiltmaker
One of my Esteemed & Respected Bagpipe Instructors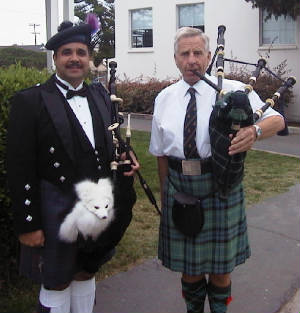 Dr. Pazo and Dugald MacNeill, son of "College of Piping" founder,Seuman MacNeill(Glasgow, Scotland)
One of my Esteemed & Respected Bagpipe Instructors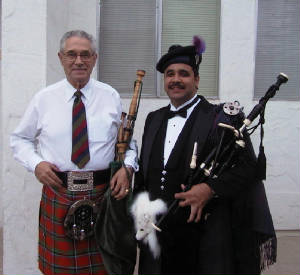 Mr. Harry Sinclair MacNulty, with a set of Solid Maple Bagpipes



Morris Chapel, Stockton, Calif.
Formal Wear: Spirit of Scotland Ancient Colours Tartan; Scottish Claymore Sword
P/M Dr. Raphael Pazo (daywear -equivalent to suit)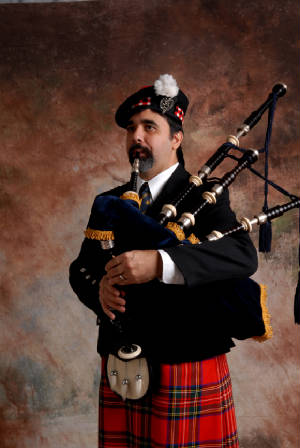 Argyll Coatee with day/night sporran - Red Royal Stewart Tartan
So. Lake Tahoe/State Line:California/Nevada Border
California Peace Officers Association Color Guard
Mr. Gary J.M. Berreth (Day Wear: Argyll/Gauntlet)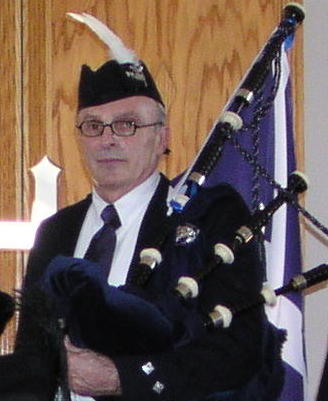 Master Kiltmaker and Tartan Designer, just before performing as a Bagpiper
San Francisco Scottish Rite, San Francisco, Calif.
Dr. Raphael Pazo, Dr. Brian James & Richard Charette
One of my Esteemed & Respected Bagpipe Instructors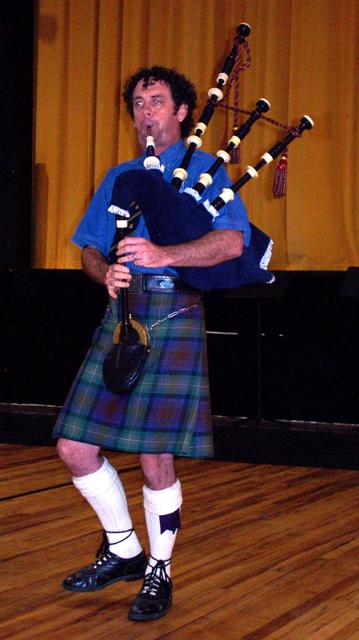 Mr. Aaron Shaw, of the "College of Piping" and Director of the "Wicked Tinkers"
Classmates at the College of Piping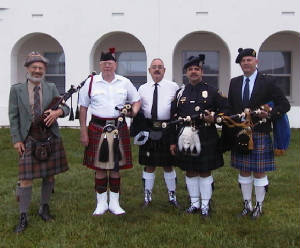 all of whom are COPS (from the Old English "Constables on Patrol")



Bagpiper Daniel Pazo, Black & White Menzies Tartan
In front of Bob Hope Theather in Stockton, after his first public performance
San Francisco Scottish Rite: Dec. 2003
Formal Wear: Prince Charlie Coatee with Flight Plaid; fur sporran; Black Watch Tartan
P/M Dr. Raphael Pazo (frontal view)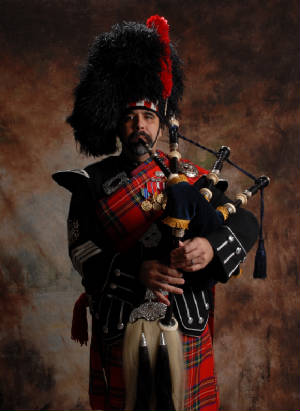 Full Regimental Uniform with Milirary Decorations and Weaponry - Vintage Bagpipes
Lodi, CA - November 2003
Day wear. Argyll coatee: Lodi Sunrise Rotary Club; with Andreas Blair, rock guitarist/singer.
Master Daniel Pazo, Sword Bearer

Daniel Yitzhak Pazo is also one of our Staff Performers (biography under "Meet Our Staff")
One of my Esteemed & Respected Bagpipe Instructors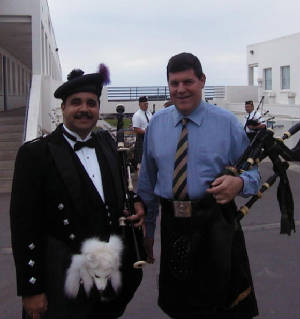 Major Bruce Hitchings, MBE, BEM, Senior Pipe Major British Army & OIC of Tattoo at Edimburg Castle
Dr. and Mrs. Raphael Pazo in formal wear.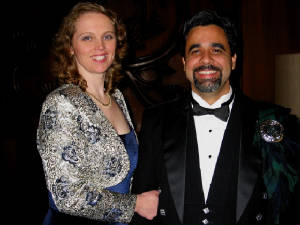 Prince Charles Coatee with Black Watch "Fly Plaid over sholder. Equivalent to Tuxedo.