---
Article published Jul 1st, 2006 Stockton Record
Comforting sounds
Lodi chaplain touches lives with music, compassion

He plays the bagpipes, organizes funerals, counsels police officers, speaks five languages and has a collection of degrees ranging from music to international relations. How does 40-year-old Raphael Pazo have time for all of this on top of helping to raise four kids?
"The price I choose to pay is that I don't watch that much TV," he said.

The Lodi police chaplain is the only Jewish chaplain in San Joaquin County. He also touches others' lives because he runs a funeral home and is an honor guard bagpiper.
"When he comes to comfort people, it doesn't matter what faith you're from, he's going to love on you," said his fellow Lodi police chaplain Philip Orosco, who is Protestant.

Pazo was raised as a secular Jew, but returned to religion almost 10 years ago because he felt the pull of faith. Last summer, he accepted an invitation to be a police chaplain.

"What really attracted me to the chaplaincy program was that here we minister to all types of people. When people are facing an event like death or injury, stepping in and being able to help them deal is extremely rewarding," he said.

Born in Ponce, Puerto Rico, Pazo graduated high school at the age of 15 after skipping second and fifth grades.

"My parents always instilled very high academic standards," he said.

He moved to California and worked for his uncle's casket company in San Francisco. He then earned two associates, two bachelor's, two masters and two doctorates degrees in business administration, mortuary science, administration of justice, biology and business management, music, language arts, international relations and ocmparative religion; he also received rabbinical Smicha (certification) and was ordained as a Rabbi in New York on June 2005..

"The more I study, the more I realize that there's so much I don't know. It's a very humbling experience," he said.

He also spent six years in the Army to earn more college money, dividing that time between South America and the Middle East.

He learned Arabic in the Army, and said the language is phonetic and not as hard as one would think. He grew up speaking Spanish and English in Puerto Rico, picked up Portuguese from his mother and learned Hebrew in rabbinical school.
A funeral parlor is a place where he can integrate a good number of his skills, Pazo said.

"In this profession, we're faced with the clinical challenges, like reconstructive surgery, we're faced with the business aspects, we deal with international affairs, and personally what I like the most is teaching and learning," he said.
Pazo's warmth and compassion are what give the Frisbie-Warren and Carroll Mortuary he manages in Stockton one of the highest customer satisfaction ratings of all the Northern California funeral homes owned by the Service Corporation International group, said SCI regional manager Raymond Parker.

"His compassion for families is what makes him succeed," he said.


---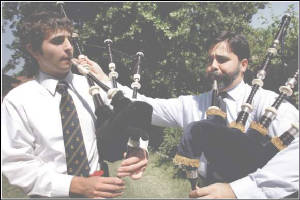 Raphael Pazo, right, and son Daniel Pazo practice playing bagpipes in their back yard last week. Raphael Pazo, the only Jewish police chaplain in San Joaquin County, also is an honor guard bagpiper and funeral home director.
---
Credit: DOUGLAS RIDER/The Record

Running a funeral home is "like having a ministry anyway, and he combines the two. He has a calming nature and soothing way about him," said Parker.

The bagpipes can be soothing, too, in their own way. Pazo has been playing them on and off since high school, when a friend brought the instrument to school and told Pazo it would be too challenging for him, he recalled.

"I just became enamored with the bagpipes," he said. He is an honor guard piper for the Lodi Police Department, and plays at city and county events.

The pipes - and music in general - also play a role in the Pazo family life. His Scottish wife, Susan, plays the French horn. The two met in a chorus class at the University of San Francisco.

"My family thinks it's so funny that a Puerto Rican plays bagpipes," she said.

The couple's 16-year-old son, Daniel, is learning to play the bagpipes, and his other two sons and daughter also play musical instruments.

"Music is something we can do together," Raphael Pazo said.

He and Daniel practice piping together most days.

"They just have a haunting sound," said Daniel, who will be a senior at Tokay High School in Lodi next school year. "When you play them, you feel like you're by a bog and it's misty."
Contact reporter Anna Kaplan at (209) 546-8294 or akaplan@recordnet.com