Thursday, May 6, 2004
Cromwell Circle dedicated to fallen Lodi officer
As police officers across the state and nation gather this week to honor those killed in the line of duty, the Lodi Police Department remembered one of its own Wednesday.

Just as they have every year since Officer Rick Cromwell died in the line of duty Dec. 9, 1998, Lodi police officers placed a wreath at the motorcycle officer's grave on Wednesday.
Lodi police offers placed a wreath at the grave of Rick Cromwell during a ceremony honoring the fallen officer at Cherokee Memorial Park on Wednesday in Lodi. Cromwell died when his motorcycle collided with a car Dec. 9, 1998. (
Casey Freeman
/News-Sentinel)
But this year, a new tribute was added.

The morning sun shone on the department's new building as officers dedicated the parking lot and driveways to the memory of the officer who was killed in a vehicle accident.

Cromwell's father, Chuck Cromwell, helped unveil one of two street signs marked

"Cromwell Circle." Both are located in the building's fenced-in parking lot, but they can also be seen over the wall near the corner of Church and Elm streets.

The brief ceremony began with an inspection of the gathered officers, Honor Guard and volunteer Partners Honor Guard members. It was followed by a prayer by Chaplain Bill Sherill.

Then Chief Jerry Adams, assisted by Chuck Cromwell, pulled a cloth from a street sign outside the main employee entrance.

The black-and-white signs, which look just like those found at most Lodi intersections, was complete with Rick Cromwell's police badge number, 33.
This sign was unveiled Wednesday naming the area located behind the new Lodi Police Department building as Cromwell Circle in honor of Rick Cromwell. (Casey Freeman/News-Sentinel)
A replica of his badge is also engraved on his tombstone at Cherokee Memorial Cemetery, where a caravan of police cars traveled following the Cromwell Circle dedication.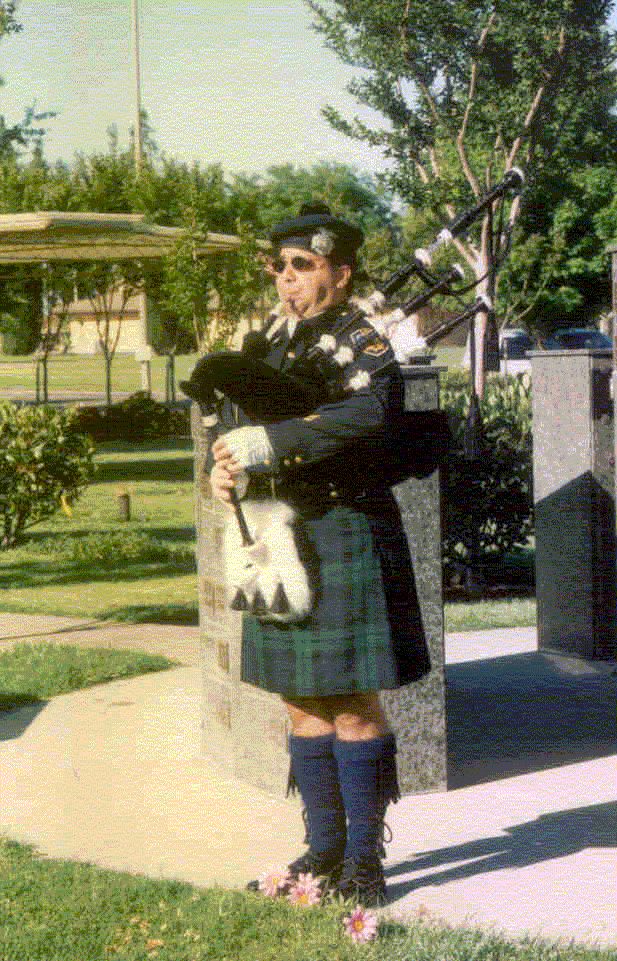 Officers moved into formation around Rick Cromwell's grave while Raphael Pazo, Jr. -- an honorary member of the Honor Guard -- played bagpipes.

Once again, Sherill said a prayer, remembering "the one who gave his all for his community."

Rick Cromwell, who had been with the department for 10 years, was riding his motorcycle on Kettleman Lane when he turned to chase a speeding motorist. A car pulled out in front of him, killing the officer.

Chuck Cromwell will never forget his son, and he pays regular visits to the Police Department.
Lodi police officers and Honor Guard, left rear, stand in silence as Lodi Police Department Chaplain Bill Sherrill, center, says a prayer. (Casey Freeman/News-Sentinel)
"Being with these guys makes it easier. They've been like counselors," he said after officers placed a wreath of greenery and blue and white flowers over his son's grave.

The officers continued on to Stockton to participate in a memorial for all officers within San Joaquin County who have been killed, but the visit to their former co-worker's grave also made them sober.

Sgt. Chris Piombo, who graduated from police academy with Rick Cromwell and was hired the same day, remembered how quickly his colleague caught on to police work.

"He loved it. He loved riding that motorcycle; that's who he was," Piombo said.
Contact reporter Layla Bohm at layla@lodinews.com.